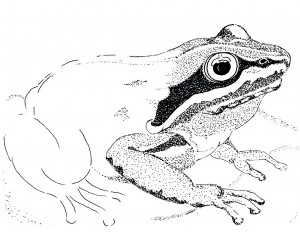 Once a week I am going to post about an endangered animal – starting with the letter A and ending with Z.
The first animals – amazing Alaskan wood frogs!
They live in Alaska, obviously, and are attractive, unremarkable-looking, greeny-brown frogs about 3- 7cm in size.
But they have an extraordinary ability – as it becomes colder, they burrow under leaves and mosses, and when it begins to snow and then freeze – Alaskan wood frogs freeze too!
Even their eyes and brains freeze – they stop breathing, their hearts stop beating… and yet they are still alive. Because when spring arrives they thaw, and as the ice and snow melts to water, they hop off to the nearest pond to mate.
Amazing enough to be an April fool – and yet, it is not!
Alaskan wood frogs are not endangered, but they are threatened by increasing numbers of deformities. Scientists are investigating the reasons – frogs are very sensitive, and taking notice of what is affecting them may prevent problems that could affect us.
There are more facts in my book, Animal Magic about this incredible little frog.
Alaskan Wood Frog
As snow falls slowly,
frond by frond,
and turns opaque
the snowmelt pond,
this small green wood frog
starts to freeze,
his hands and feet,
elbows and knees.
His eyes and brain
and blood are chilled,
his steams of breath
and heart are stilled.
As frog turns ice
it's hard to know,
what is the frog,
and what is snow.
Yet when the snow
ponds melt, they bring
this little frog
awake to spring.
Illustration and poem © Liz Brownlee