About Liz
Liz lives in a village in the south west of England with her husband Peter, dog Lola, and cat Milla.
Liz grew up in Wales and the south of England, and went to nine schools before she was 11. She did a lot of drawing and sometimes wrote stories and poems. Her love of animals has meant various pets, including 8 rabbits, a slow worm and a greenfinch, rescued when its nest was blown apart in a storm. Grizelda Greenfinch lived with Liz until she was 13 (Grizelda was 13, not Liz!). One day Liz hopes to write her story.
When she was young Liz helped out at a local vets. She went to Art College, Film School and then worked in the advertising industry.
When her children were young Liz started writing again, and soon realised she liked writing poems best. After being published in loads of poetry books she went back to school and did an MA in Writing for Young People at Bath Spa University, and even though she was quite old they let her in.
Liz has lots of wonderful poet friends and they sometimes go on retreats together and do lovely things like read poetry to each other, and sing and dance. You can see some of Liz's poet friends on the interactive page in a video. In September 2009 Liz organised a successful poetry exhibition at the Arnolfini in Bristol. Lots of the poets came to help, and you can see the photos on the interactive page as well.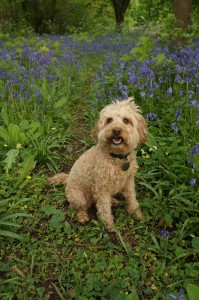 As Liz has no warning symptoms of low blood sugar, Liz's dog Lola is her assistance dog. Trained by Medical Detections Dogs, Lola alerts Liz  before her blood sugar drops too low, so she can eat something.
Liz and Lola go everywhere together (schools, restaurants, poetry readings, theatres, cinemas and they have even been on planes!). Lola has been trained to behave in an exemplary fashion everywhere she goes. She wears a little red coat to show she is an assistance dog.
But as you can see by the photo, she also has lots of lovely walks with Liz in the countryside.
If you would like to book Liz, she will come to your school, library, literary festival or poetry event and show images of endangered animals, talk about them, read poetry and do workshops with all ages. Please see the contact page for details.
Liz's book, Animal Magic, is available in bookshops, from IRON Press and Amazon.