Contact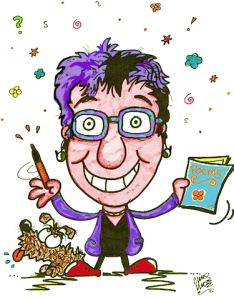 lizpoet @ gmail.com
.
Due to the unique nature of my animal poems combined with fascinating facts, my performances are popular with adults as well as boys and girls aged 8 and over.
School Visits
I am available at reasonable rates for school visits within striking distance of Bristol. Visits include a powerpoint full of fabulous photos of endangered animals – with a poem and information about the lifestyle, habitat, endangered status and other amazing details about each animal.
I am accompanied by another author to help with workshops if desired. Workshops can be designed to your needs – examples include 'Discovering Animals'. The children will become scientists who have discovered an extraordinary creature. As the discoverer, they will name it, and then describe it, its habitat, its adaptations to live in its habitat, what it eats and its enemies etc. in a short piece of writing or poem.
.
My Y6 class loved the poems and were enthralled to learn about some of the incredible creatures; there were gasps when read the info about the Madagascan robber moth and its diet, and the poem became the catalyst for their own writing.
.
Liz enthused the year 6 children at our school with her poems about endangered animals. Her subject knowledge was excellent, she was able to answer some quite obscure questions! The images which accompanied Liz's talk were extremely engaging and provided talking points throughout and after the discussion. The children thoroughly enjoyed the session and we would definitely invite Liz and her glamorous assistants back!
.
Readings
I have read at Cheltenham, Bristol and Bath poetry festivals, in libraries, at Bristol Green Week Festival and other nature festivals for adults, children and mixed audiences.
.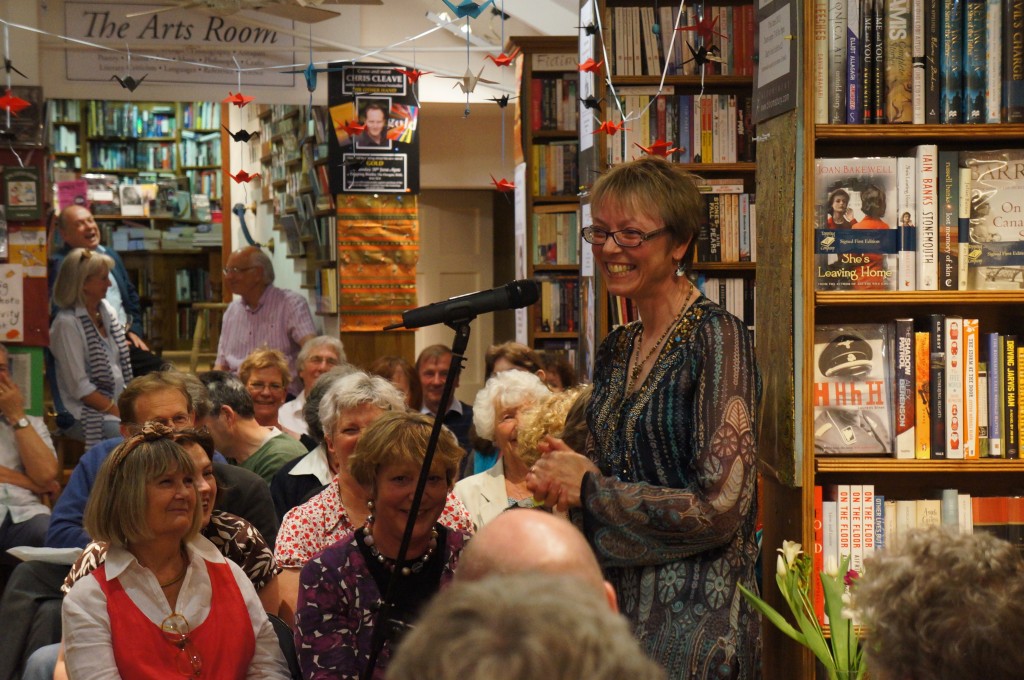 .
Reading at Topping & Company Booksellers, Bath
.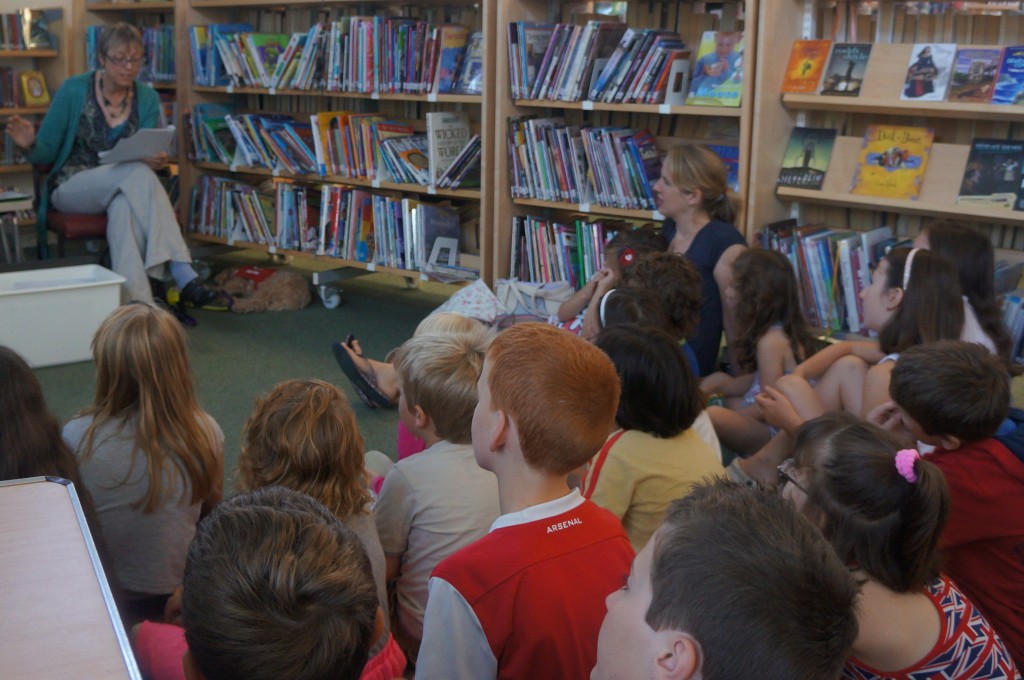 .
Powerpoint and reading at Downend Library, Bristol
.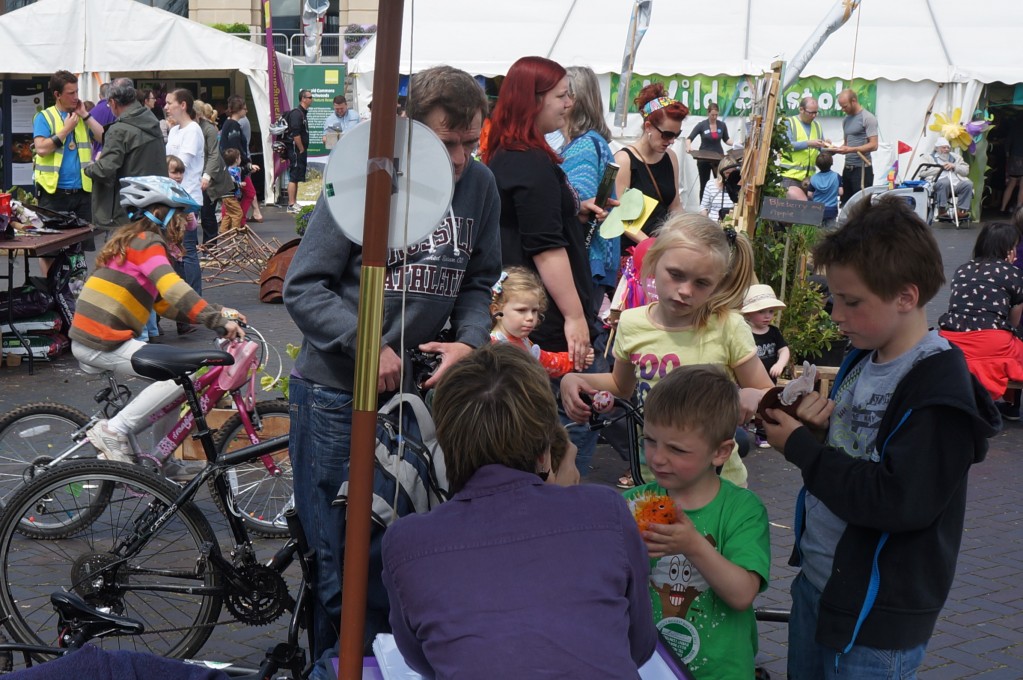 .
Readings, fabulous facts, and fun with the poetry puzzle (below) at Bristol Green Week
.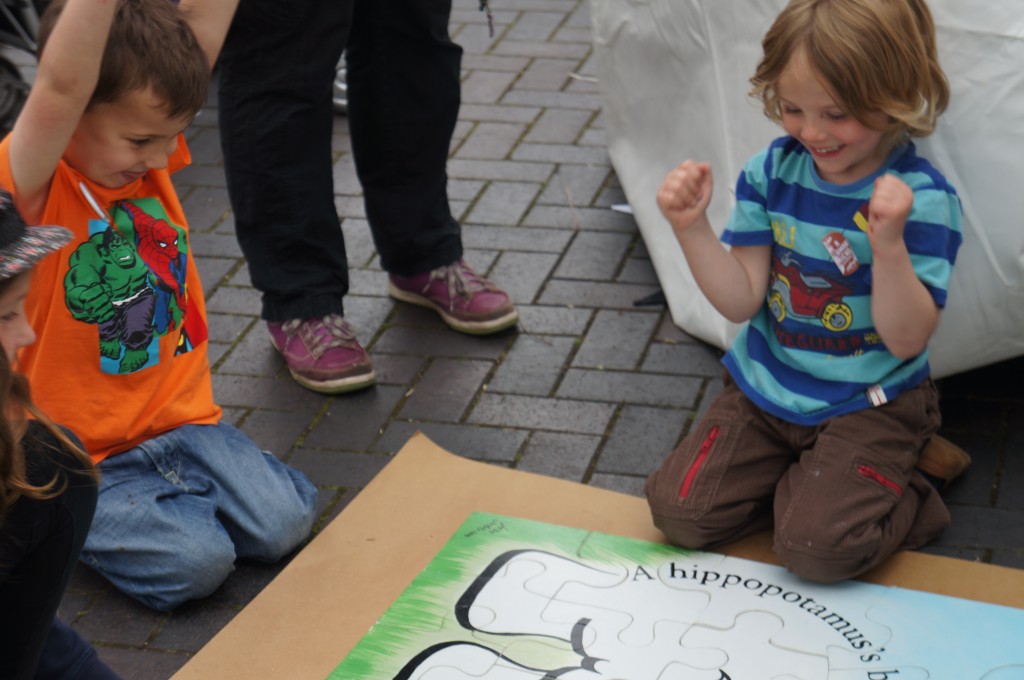 .
Poetry Exhibition
In 2009 I organised a successful 10 day family-fun poetry exhibition as part of Bristol Poetry Festival.
The exhibition is available for hire for poetry festivals etc. It comprises 30 laminated shape poems and 30 illustrated poems for hanging on the wall, mobiles of palindrome poems, a giant wooden puzzle with a poem on both sides, a giant magnetic poetry set with three giant boards which can be hung on the wall or freestanding, videos of children intercut with professional children's poets reading and a wicker 'poet tree' for hanging poems on.
.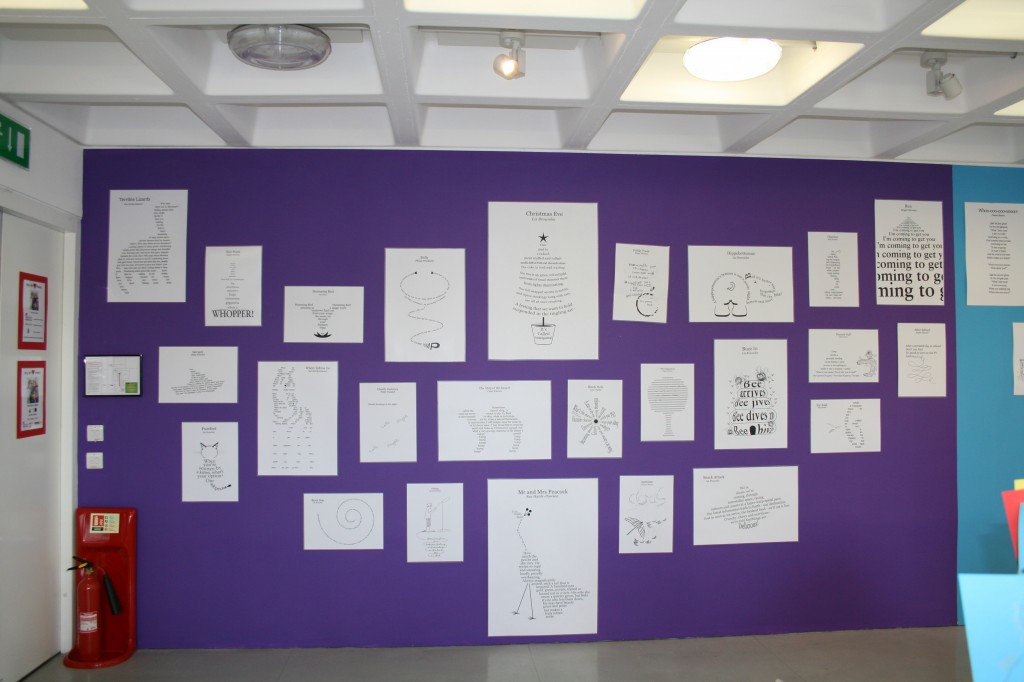 .
The wall of shape poems
.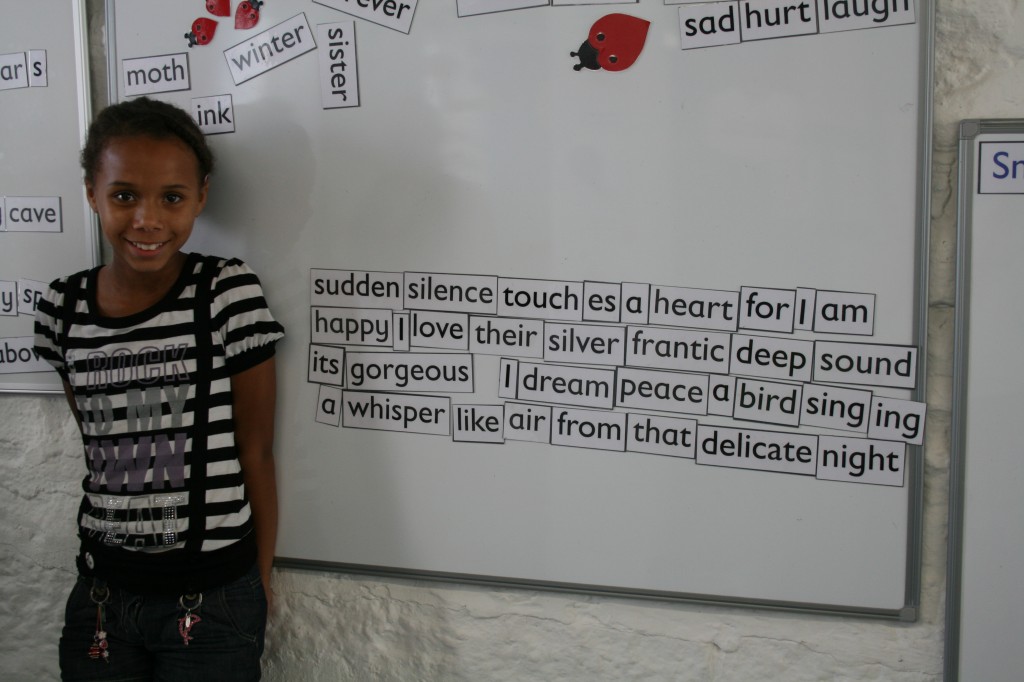 .
One of the giant magnetic poetry boards with a poet!
.
.
One of the palindrome poem mobiles – it can be read downwards or upwards. Words by Jane Clarke.
.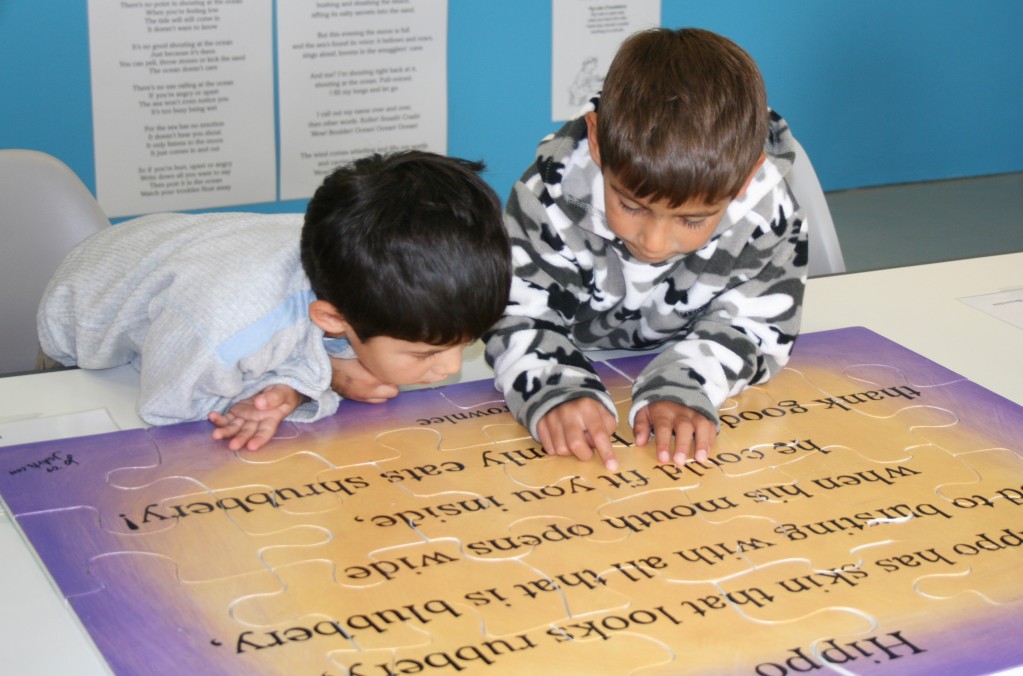 .
Having made the puzzle together, one boy reads the poem to another
.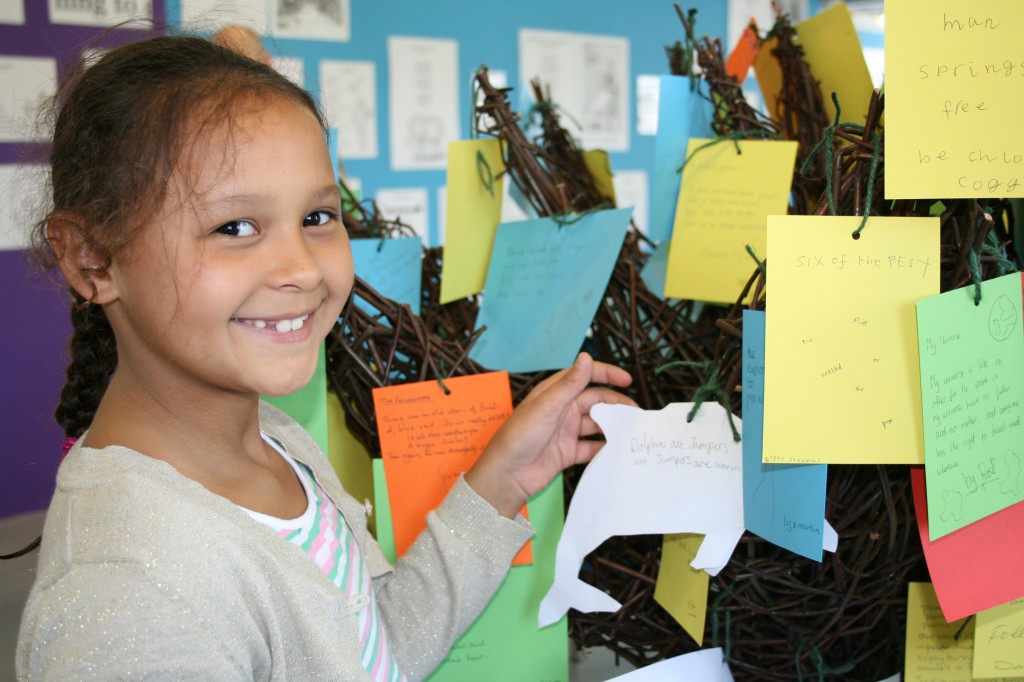 .
Proud poet at the 'Poet-Tree'
.
The whole exhibition can be seen on Flikr here: Bristol Poetry Exhibition 2009
.
Contact me at the email address at the top to find to more about any of these services.
.
Website by Chesapeake